Get lyrics on your iphone or Android phone with the karnatik app!
Famous Carnatic Composers - SB
---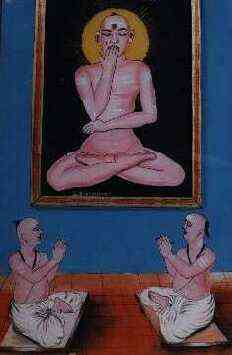 Photo courtesy of Bhajana Sampradaya - now NAMA.
Click here for more information.
Sadaashiva BrumhEndrar - He was born in 1560 in Madurai to Somasundara and Parvati. His theological guru was Sri Paramasivendra Saraswati of Kanchi MaTT, and he learned music from Tiruvisanallur Ramasubba Sastrigal. Sadasiva Bruhmendrar was an Avadhuta, one who completely renounced wordly life. He composed about 23 pieces using the mudra Paramahamsa. He died in the year 1762 according to popular tradition and is said to have attained moksha when he died, either at Nerur or Manamadurai.
Mudra: Paramahamsa
Compositions:

---
Contact us